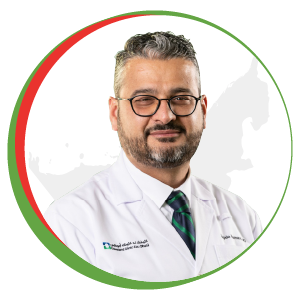 Rajaie Namas
Consultant Rheumatologist
Cleveland Clinic
United Arab Emirates
Dr. Rajaie Namas, is a Section Head of Rheumatology at the Medical Subspecialties Institute at Cleveland Clinic Abu Dhabi.
Prior to joining Cleveland Clinic Abu Dhabi, Dr. Namas served at the University of Michigan as a Clinical Lecturer for two years, and was supported by the National Institute of Arthritis, Musculoskeletal and Skin Diseases. He was then promoted to Clinical Assistant Professor at the University of Michigan.
Dr. Namas received his medical degree from the University of Tripoli, Libya. He completed his postdoctoral training at the University of Pittsburgh, Pennsylvania, US, followed by his residency in Internal Medicine at Hurly Medical Center/Michigan State University in Flint, Michigan, US. Dr. Namas completed his clinical and research fellowship in Rheumatology at the Wayne State University/Henry Ford Hospital in Detroit, Michigan, US.
Dr. Namas is currently active in numerous research projects focused on treatment strategies, measures of outcome, and translational studies of potential laboratory markers of disease activity. He has multiple publications and awards in the field of Rheumatology, and is a reviewer on multiple peer-reviewed
journals.
Dr. Namas is a member and fellow of the American College of Rheumatology and DrAmerican College of Physicians.